Class Preparation
Get Ready for Your Sherwood Oaks Class
A few suggestions for preparation, because the whole reason we do this is because we want you to succeed. And good planning is the master of sucess, right?
In preparing for a Sherwood Oaks course, whether it is for one day, a weekend, or an entire week, it is important to remember that you are creating/building a new reputation with this event, and your reputation is important from the very first day. Therefore, just as you would for a networking event or job interview, we offer the following keys to good preparation, which will lead to the best possible success…
Things to Do
In General (the basics) :

Get plenty of sleep the night before! It's easy to forget this one, but having proper rest is vital to functioning at your highest level in order to make the best possible first impression.

Eat a good breakfast. There will be no food or drink allowed in the room, and lunch can seem like a long way off on an empty stomach. Besides, you don't want to be embarrassed by those grumbling noises!

If attending a day of pitching, we also recommend practicing your pitch(es) with friends/family members prior to the event. You will get practice and feedback during the class and at the Pre-planning event as well, but practicing on your own at home will give you the leg up you need to impress the industry professionals you will meet. It will also allow you to get the most possible benefit from the feedback you will be given.

Be polite and don't be pushy. Don't ask the guests for their email or address. Recognize that relationships take time and use the one-sheet method — it works!
Never volunteer that you don't have representation. If someone asked then tell them the truth. With the internet, people can find things out about people. Hollywood is built on trust.
Do not put your belongings on the table or backpack on the chair next to you, please place any material besides a paper of paper, pen, water or laptop on the floor.

What to wear:

Again, you are making a first impression with a potentially important contact for your career! Dress appropriately for a business meeting, aka "business casual."

What to bring:
Cash for parking and lunch each day ($30/day recommended)
You may bring a laptop although not required.
Your one-sheet! If you are unclear as to how to prepare an effective one-sheet, click

here

.
Your loglines and "one-minute pitches", if attending a day of pitching. Click here for extra guidance.
4. SPECIAL NOTE FOR NEW STUDENTS:
To be fair to the guests and the students a like, we would like a brief opportunity to get to know you before you attend your first course. Therefore, we conduct a MANDATORY NEW STUDENT ORIENTATION prior to each course via conference call. In this call, Christine Owens, Sherwood Oaks' Director, will detail what students can expect from the course, describe our unique format and why it is so effective, and provide valuable tips and tricks for you to get the most out of this rare opportunity.If you cannot listen to the call live, be sure to listen to the recorded mandatory call.

Please understand that this is a very important orientation, and failure to participate will result in the forfeiture of a new student's place in the class. Students who have attended a Sherwood Oaks course within the last year are exempt from this orientation.
5. I PAID, HOW DO I KNOW THAT I REGISTERED, WHAT HAPPENS NEXT?
Your paypal or check is your receipt. Sherwood Oaks does not send receipts. Within 3 to 6 days before the class, we will send you a tentative agenda. Usually the agenda stays about 90% the same but a few guests may change.
If you do not receive an agenda within 3 days before class, it is your responsibility to email info@sherwoodoaksfilmschool.com and tell us. If you can send a copy of your Paypal or cashed check then we will send you an agenda which show where our class is held and who is speaking.
If it is urgent, you can call at 805-330-1868 but it is much better to email.
6. WHERE EXACTLY ARE WE MEETING?
The address of locations as well as directions, will be included in the agenda which you will receive by email.
If you are registered for a class and did not get an agenda, please email info@sherwoodoaksfilmschool.com with the class date and a copy of your paypal receipt or cancelled check.
Thank you so much for your understanding in this matter. As you may guess in the Hollywood industry, the legalities are just as important as the actual content, if not moreso. That's why we suggest start getting used to it now. 🙂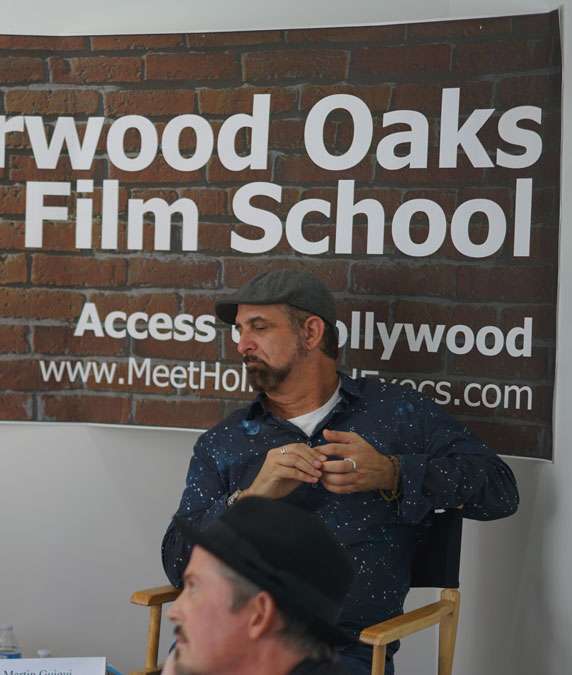 Don't Wait Any Longer. Start Forging Your Own Path Today!